THE ENEMY IS TALENTED, TRAINED AND FOCUSED.
SO ARE WE.
In case you weren't sure about it, you are under attack. Cybercrime is a big time (and profitable) business. The bad actors aren't doing it as a hobby. They are dedicated and good at what they do. Your defensive approach should match. Good thing, we have a full complement of security expertise and street smarts ready to confront your unique situation. Wherever needed, our team is made for this.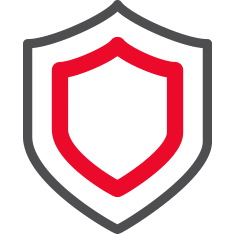 Defeat unacceptable risk. From compliance-mapped security assessments to part-time security leadership, we deliver the guidance needed to identify, measure, and manage your security risk and achieve your security goals.
Improve your arsenal. We design, plan and thoughtfully integrate security technology to work for you. Our experienced team makes sure your technology — both new and existing — is properly installed, tuned, and hardened to actually deliver its intended value.
Validate your security. Our offensive security engagements mimic real attacks to assess your defensive posture in depth. By beating the bad actors to it, we provide prioritized guidance to address vulnerabilities before they are exploited.
Engage an ally. We've got your back with 24/7 security monitoring. Our Security Operations Center (SOC) keeps watch for you, providing expert event analysis and swift response to security incidents.
Working with GMI has greatly improved our security posture. Their approach was focused on us, not a particular cybersecurity solution. Their recommendations were spot-on and their partnership in reconfiguring our systems and processes elevated not only our information security, but also our team.
GMI exemplifies what partnership can be; they are passionate professionals that deliver at both the tactical and strategic levels.
We have a small team. So the fact that we get alerts from GMI anytime something suspicious is going on, I think that's huge for us.