ONE SIZE FITS ALL POORLY.
The best networks are tailored for the organizations they serve. They keep operations performing and secure, while growing and adapting to meet changing needs. Obviously, you won't find solutions like this in a universal box. No worries. Our team is full of both networking services and technology specialists, equipped with the chops to diagnose, prescribe, and optimize an environment. Precisely the kind of blended brain trust you want supporting your organization and team.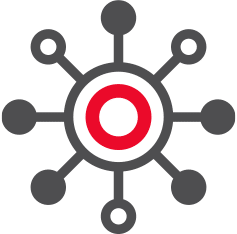 Get informed solutions. From identifying the right solutions to deeper-dive assessments and laying out a plan, you benefit from our expertise.
Infrastructure optimization
Improve operations. Wired, wireless, and software-defined, tune your network to improve user experience, maintain security and operate efficiently.
Relax. Your network becomes our network. We monitor 24/7, resolve issues, and proactively maintain network health. Go do things you'd rather be doing.