Every team benefits from a great leader. With data security breaches a recurring headline on national news, the desire for cybersecurity leadership has grown considerably. The protection of critical systems and data is a primary concern. Many businesses now realize that a cybersecurity strategy is essential to maintaining their business reputation and minimizing the potential for disruption. They realize they need an experienced Chief Information Security Officer (CISO) to quarterback the business to achieve meaningful security.
The problem is, as NFL franchises will tell you, great leaders command serious price tags.
Using our football analogy, like accomplished quarterbacks, quality CISOs are in short supply and high demand. Yet, as security team captains, the role they play is too crucial to go without. If your organization can employ a traditional CISO and absorb the traditionally high costs, that's great! Fortunately, while NFL teams may have to shell out big bucks to hire the best, your security program has other options.
Let's discuss everything that you need to know about hiring an experienced CISO—at a price you can afford—to quarterback your team to a winning security posture.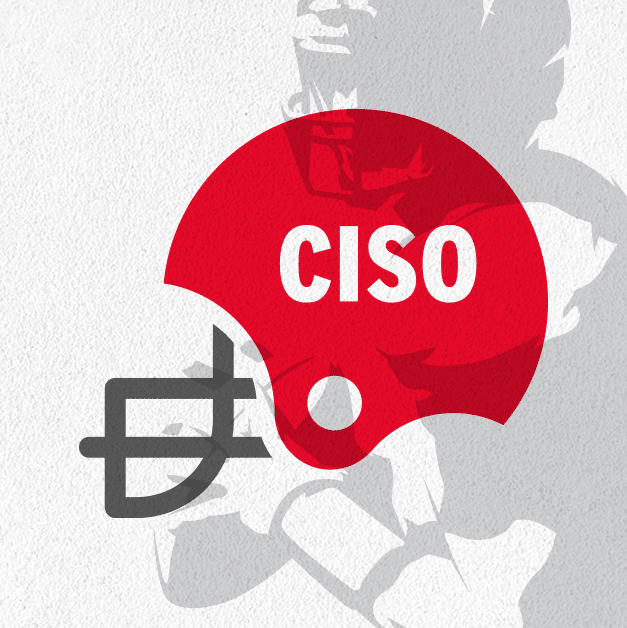 What is a Chief Information Security Officer (CISO)?
Briefly, a Chief Information Security Officer is a leader accountable for system and data security. Using and developing the people, processes, and technologies at their disposal, the CISO identifies and manages cyber risk, while keeping business leadership abreast of material concerns. While there are common instances a CISO is called into play, every company would benefit from such a leader dedicated to ensuring the security of data resources and technologies.
A CISO Commands the Field
Much like a football quarterback, CISOs establish the norms for success while reacting to a dynamic and hostile landscape. They call and execute the plays that will make the best use of their assets in order to keep the ball moving steadily forward. Their influence permeates the organization. CISOs are concerned with strategic planning, tactical decision making, operational efficiency, budgeting, investment, and resourcing. The ability to provide risk-informed business guidance and lead towards safety is among their greatest strengths in the modern age of hacking and cyber threat. Unlike the game of football, the battle that CISOs fight is a perpetual one, never stopping at the whistle. 
CISO as a Service allows organizations of all sizes and budgets to get in the game with their own seasoned security quarterback. These pre-vetted virtual CISOs, often referred to as "fractional CISOs," function similarly to normal CISOs, but in a part-time manner that is right-sized to the leadership needs and financial realities of the organization. This solution is commonly used across many industries including manufacturing, finance, retail, technology, insurance, and healthcare. Companies routinely use vCISOs to solve their problems without investing huge time and money. The significant cost reduction and increased flexibility of using a vCISO allows all organizations to protect their organization and their data without the cost and commitment of a full-time hire. Small to mid-sized businesses who are working with tight budgets and looking for efficiencies can especially benefit from engaging with a fractional CISO.
5 Main Benefits of Hiring a Virtual CISO:
They Are Security Experts: The core tasks of fractional CISOs include the development of a security program strategy, overseeing the implementation of security capabilities and controls, collaborating with all levels of business leadership, evaluating risk, advising on emergent threats, and overseeing all aspects of Security Program operations. Virtual CISOs possess a wide range of security-related skills and experience.
Cost-Effective: Paying for only what is needed, hiring a vCISO reduces your payroll costs. Additionally, you will eliminate the cost of benefits and bonuses that a full-time employee receives every year.
Reduced Financial Commitment: Recruiting a vCISO for a short- or long-term relationship poses comparatively little risk. As soon as the project requirements are achieved, your liability is over. You are not tied to any long-term expenses or payroll costs.
Informed Security Program Maturation: Like a great quarterback, these experts know the game. They leverage experience and insights to align needs with the existing state of your security program. They build playbooks and roadmaps that efficiently achieve security goals.
Educate/Improve Your In-House Security: Virtual CISOs manage your security responsibilities while also mentoring your in-house team. vCISOs can efficiently run SWOT analysis and figure out the areas where your organization needs the most critical help and training. This security-based mentorship will educate and improve your in-house team's security skills over time.
What does a CISO do? Click to learn 8 Critical Duties of a CISO. Whether looking to improve or looking to hire, this valuable, yet free checklist can help identify gaps and inform what to seek.
Win With CISO as a Service
Much like an NFL quarterback, a skilled CISO brings advanced security strategy, risk awareness, offensive/defensive strategies, and team-building skills to the table. Unfortunately, much like an NFL quarterback, a skilled full-time CISO can also bring high costs and long-term commitments. If you would benefit from dedicated security leadership but are struggling to absorb the costs of hiring a full-time CISO, then you should consider the value of bringing on a virtual CISO. Hiring a vCISO is often the best, most cost-effective way to improve security posture without breaking the bank!
Interested in learning more about GMI's fractional CISO service? Click here to learn more about hiring a vetted security quarterback to protect and grow your business.