SECURE MANAGED SERVICES PROVIDER
Don't be vulnerable. Partner with the original Secure MSP™ for comprehensive IT management solutions with an integrated security approach. GMI not only manages your systems, networks, and devices, but also keeps your environment secure. 
WHERE MSP AND MSSP PARTNERS FAIL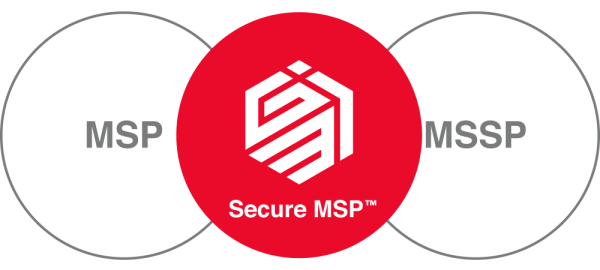 In today's world of pervasive cyber threats, demand for greater cyber protection, and broadened network perimeters, security must be a central consideration in all technology decisions. Unfortunately, organizations hire Managed Services Providers (MSPs) to operate their technology through the delivery of active network, application, and infrastructure and security support, but do not realize these organizations lack the cybersecurity skills and services required to keep them safe. In truth, MSP technology expertise rarely includes meaningful security expertise. They are not experts at managing cyber risk, detecting breaches, or minimizing the damage of such an event. In most cases, they'll tell you it was not their responsibility to implement and maintain the security posture necessary to prevent and respond to the breach. 
Managed Security Service Providers (MSSPs) are similarly limited. Their focus is strictly security, providing monitoring and management of security devices and systems. However, as they are not accountable for IT systems management, security failures stemming from technology implementation and operation are likewise considered by them to be out of scope. 
To succeed in the modern threat landscape, IT and security management must be an integrated function. The legacy paradigm of autonomous MSP and MSSP service arrangements leads to inevitable gaps in your security posture and results in finger-pointing when you can least afford it.  
To have confidence in the security of your IT management, you should consider a Secure MSP who can ensure end-to-end cyber assurance and accountability, along with traditional IT infrastructure management.  
COMPLETE IT LIFECYCLE MANAGEMENT

Finally, all the support you require in one integrated and comprehensive solution. Our expert team of solutions admins, security analysts, engineers and specialized consultant will monitor and manage your technology investments. We assist with end user and workstation issues. We proactively manage systems, voice, and network infrastructure. We monitor your environment to identify cyber threats and help resolve security incidents.  
It's a common mistake to approach security as an add-on capability. Proper security management and IT lifecycle management are co-dependent. They must be addressed in unison to be effectively secure. In contrast, retrofit attempts are less efficient and may yield inferior results. As deeply experienced security consultants, we intimately understand this. With GMI, you can rely on our expertise to inform every technology decision for desired outcomes. 
As CIS SecureSuite® members, we leverage best-practice industry guidance to baseline and harden your infrastructure and put desired protections in place. We then improve and defend your security posture. We keep systems patched, analyze security events 24×7 to detect and respond to potential incidents, and actively scan the dark web for various exposures that might put your organization at risk. As employees are a common target of today's cyber criminals, we can even train your staff to help limit the human vulnerability. 
THE IMPORTANCE OF TRANSPARENCY
Are you confident in your security posture? We strive to be an industry-first in delivering cybersecurity  service transparency. Our Secure MSP Shared Responsibility Matrix will give you a clear understanding of where your cybersecurity responsibilities end, and where you can count on GMI to fill in the gaps. No more assumptions or guesswork. Regular reporting will keep you current on our actions and all progress made. So, when questions arise, such as on a cyber insurance application, you're not only already informed, but prepared. 
Just ask Elena. Or Cheri. Or Anthony. The point is every Secure MSP customer has a named, technical account manager dedicated to your success. This friendly and experienced ally monitors your account, ensuring needs are met and issues are resolved. They provide security reporting and quarterly service reviews that cover system metrics, license entitlements, utilization, and overall service health.  
Any GMI service can be customized for your exact environment and needs. That said, we have 3 Secure MSP offerings that tend to fit just right.  
Cyber Fundamentals: for any organization only requiring the security must-haves. 
Enhanced Assurance: for those subject to regulatory compliance or needing a broader security program for purposes of third-party assurance or critical asset protection.  
Advanced Assurance: for mature organizations in need of or ready for a more comprehensive security program.