More efficient.
More affordable.
Less disruptive.
Congratulations, your business activity is outpacing your data center capabilities. Unfortunately, that means you're also dealing with an operations headache. Thankfully, it's one that we can remedy. Our team is knowledgeable, experienced, and uniquely poised to design and evolve your data center with cloud-based and on-prem solutions. And since our approach considers optimizing existing technologies as well as integrating new ones, every solution we prescribe truly fits. Sounds like one less thing to worry about.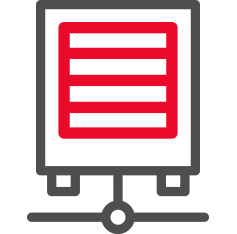 Have the processing power your organization's workload demands.
On-site, in the cloud, or both. Get the space you need to secure your data.
Less infrastructure, more efficiency. What's not to love?
Be prepared for quick recovery should things go very wrong.
Remote access, less maintenance, and the good kind of redundancy. Should some of your workloads be migrated to the cloud?
Benefit from delegating monitoring and management to our pros.