TRANSFORMATIONAL IT SOLUTIONS
Maximize teamwork while simplifying your technology.
We can mobilize your remote workforce quickly and efficiently with the right IT solutions to drive collaboration and productivity in a secure environment. The right collaborative setup can help establish a framework for team success, increase productivity, and foster an invaluable sense of community and belonging even when working remotely.
With the pressing need to effectively mobilize a remote workforce, collaboration tools are aplenty. But not all tools are created equal. Growing complexities in communication technology can make you more vulnerable to cyber threats – unless you take the proper precautions.
Our deep collaboration expertise bridges the business and technical perspectives. We can help you navigate the changing interaction paradigm, understand the newest technologies, and make the right technology investment for your organization, all while keeping your interactions safe and secure.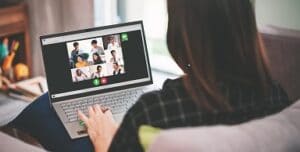 Connectivity wherever and whenever you need it
Whether you are looking to support a fully remote work environment or optimize your office communications, collaboration solutions can help you choose the option right for your company and employees without sacrificing security.